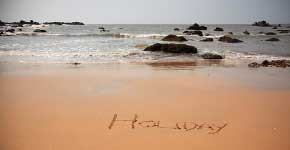 You may be surprised to hear (or then again, we may be talking about you in which case it won't come as any surprise at all) that many travellers try to choose holiday destinations which are a little more exciting or exotic than their friends . . . what are they like? There are some pretty exotic destinations on offer from London Stansted Airport but then again it's also possible to have a really fantastic holiday in somewhere considered to be less than exotic – it largely depends on who you are holidaying with.
Some people can have a fantastic time just anywhere – it doesn't matter if it rains constantly, the hotel is lousy and the food is inedible – some people will still enjoy their holidays. Other people, however, wouldn't be happy on an exotic sun-kissed beach with 5 star luxuries and a whole staff of exotic beauties to pamper to their every whim . . . that's people for you.
Okay, back to the plot – according to surveys up to 40% of British travellers admitted that they actively sought a holiday destination which was considerably more impressive than one work colleagues, friends or family members had just been on – some admitted it was because they were jealous that their peers had been somewhere more exotic than them, others just wanted to better their friends experiences and have a few bragging rights.
That's not all – almost 80% of holidaymakers (not just from Stansted Airport) admitted bulling up their holiday experiences after they got back home, some people even downright lied about where they were going in order to look good.
What a fickle lot they are? The truth is that people should stop worrying about other people and book a holiday destination which suits them and their interests and not just book somewhere because it is more expensive / exciting / exotic than their neighbours.