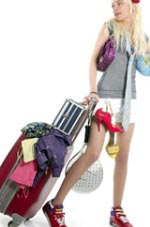 Stansted Airport is very often chock full of people bustling about here and there, shopping, catching a quick pre-flight coffee, racing towards the gate before take-off and looking to see if their loved ones have arrived to collect them on time.
What do all of these travellers have in common – you've guessed it – luggage.
Some people are like Mary Poppins and can pack enough essentials for a two week holiday into a small holdall, others insist on taking everything except the kitchen sink with them just in case they need it. But never mind the contents of the luggage, what does the actual type of luggage you carry, roll or push say about you?